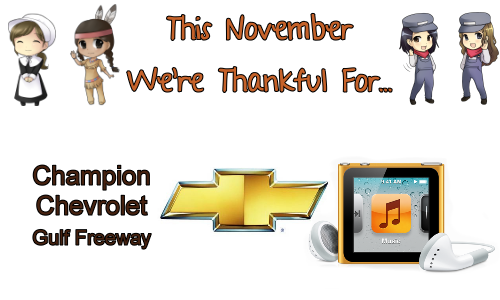 I have teamed up with a bunch of other blogs to do another Giveaway Train! This week's grand prize is an iPod Nano! I'm sure there's at least ONE person on your Christmas list that would love on of these!
About our Sponsor, Champion Chevrolet
Champion Chevrolet is "Houston's Favorite Dealership for a reason." They pride themselves on customer satisfaction that can only come from quality products and service they are committed to helping you find the vehicle that will fit all of your needs. Check out
Champion Chevrolet Gulf Freeway on Facebook
or go to their website
Champion Chevrolet
. You can also contact them at (281) 481-6680.
Click
HERE
to enter!
How to Enter:
When you get on the Giveaway Train you will need to:
1) Go to my
Facebook page
to jump on the Giveaway Train
2) Like the Facebook pages and/or click on the giveaway links to enter some giveaways (watch the video below to find out how to enter).
3) You will be entering these giveaways on the blogs themselves, and each time you enter a giveaway on each blog, come back to the Rafflecopter to get another entry for the iPod Nano giveaway. These giveaways each have their own rules and their own end dates, so make sure you read the rules.
4) The Giveaway Train ends on Nov 24th, 11:59pm.
If you have any questions, please email me at aeris321@gmail.com or leave a comment on my Facebook wall, and I will be happy to help!
Think of it this way, your trip starts on here, on my blog. You leave the station and head to my
Facebook page
. You get off the train at some wonderful blogs where you can enter their giveaways to win wonderful prizes (you can enter any one of my current giveaways), and then you end up back at my Facebook page, where you enter via the Rafflecopter widget telling us which blogs' giveaways you entered.
(If you would like to sponsor our Train, "Hop Aboard!" and contact Amee or Heather at Giveawaytrain@gmail.com for details)
Thanks to all the participating bloggers!
The Giveaway Train
Freebies, Sweeps, and Deals
Madame Deals
Couponing to be Debt Free
Heavenly Savings
The Interrupting Cow
iSave A2Z
Makobi Scribe
Wishful Thinking 247
Freebies, Sweeps, and Deals
Giveaway Bandit
Formula Mom
Frugal Experiments
Living at the Whiteheads Zoo
November Sunflower
Have Kids Will Coupon
Utah Coupon Deals
SlickHousewives
3 Princes and a Princess 2
GimmieFreebies
MyCouponLady
Nifties 'n Thrifties
Adventures of My Family of 8
Go Momma Coupons
Deal Hunting Diva
Coupons Are Great
Rainy Day Pennies
Sassy Mama in LA
Tales From the Nursery
Pays2Save
Crunchy Frugalista
Money Savvy Michelle
Inspiring You 2 Save
Taking Time for Mommy
MomsReview4You
Put A Little Umbrella In Your Drink
Still Blonde after all these YEARS
Sweeping Me
Nearly Nothing
Coupon Kristin
The Coupon Girl
Slop Swap
Coupon Clipinista
The Thrifty Things
Frugal Mom Rocks
BargainDesire
Nifties 'n Thrifties
Stretching Your Budget
Crazy About Deals